Dutch Doll making Holiday Workshops
Complete Doll with fabric body or
Two Busts

Thursday June 3 until Friday June 11, 2010

Full.

Thursday July 1 until Friday July 9, 2010
ONLY ONE PLACE left!!!!

Programm:
June 3 or July 1, 2010 - Thursday
Welcome reception at my home at 15.00 hours
with coffee, tea, tapas, and introduction to the course,
and the participants.


The lessons are each day from 09.00 to 17.00 hours
included lunch at 12.00 hours.


Second day - Friday -sculpting
Third day - Satu rday - sculpting
Fourth day - Sunday - sculpting
Fifth day - Monday - is for detailing and sanding the doll or busts
and adjoining all the parts
Sixth day - Tuesday - is a free day
to plan an excursion together to one of the interesting
and beautiful Castles or for example visit Amsterdam or Utrecht.
Seventh day - Wednesday - this day we will be painting
and varnishing the doll or busts completely.
Eighth day - Thursday - and Nineth day - Friday -
these days are planned for wigging and clothes.
Of course we will enjoy a fresh summer lunch everyday!
We will close this wonderful doll making holiday workshop
on the evening of June 11 or July 9,
with a small exhibition and photographing of all the dolls/busts made
plus a dinner together in a restaurant.
Information:
During the classes you will make one sitting or standing doll,
or two busts, please see some examples on this page.
The busts on this page are between 15cm and 20 cm high,
from head to bottom of the chest.
Standing on the colomn they are between 30 and 40 cm high.

The complete doll is approximately 40 to 50 cm high (16-18 inches)
with a fabric body, sculpted head, arms and feet of
my new Premix Clay!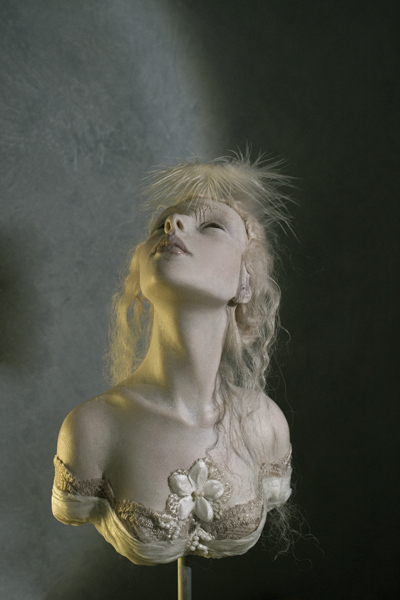 A lot of attention is given to sculpting a well proportioned
and balanced face, hands and feet.
Many tips will be given concerning anatomy, proportions,
balance and movement.
You will learn many sculpting details, techniques and tricks.

The course includes everything:
sculpting, sanding, painting the skin color,
painting the facial details, varnishing, making and gluing a wig,
assistance in making the clothes.


The course is included all doll making materials
such as clay, paint, eyes, eyelashes, hair, the use of
all doll making supplies such as brushes, pencils, tools etc.
Not included is the fabric body and materials for the clothes.
Before the workshop starts, you have to prepare the fabric body, for which you will receive patterns and a complete guide.
For the busts no preparing is needed.
Please contact me about these wonderful holiday workshops.
I can place only 6 persons per course, so a lot of attention can be given.