Juni en Juli - June and July 2009
Verslag van twee fantastische workshops!
Report on two fantastic workshops!
DONDERDAG - THURSDAY
Introductie met high tea
Introduction with high tea
Kennismaken met elkaar
Getting acquainted with eachother
De introductie middag wordt aangereikt als een mogelijkheid
voor de cursisten om elkaar alvast te leren kennen
en vragen te stellen over de cursus,
deze middag is natuurlijk niet verplicht
(maar wel erg leuk!!!!)

The introduction afternoon is organised for the participants to meet
eachother and ask questions about the classes,
this afternoon of course is not obliged
(but very nice!!!!)
VRIJDAG - FRIDAY
EERSTE DAG -FIRST DAY
De cursus bestaat uit 4 boetseerdagen,
1 schilderdag en 2 dagen voor het aanbrengen
van de haren en het maken van de kleding.
The classes exist of 4 sculpting days,
1 painting day and 2 days for attaching
the hair and making the clothes.
Eerste Boetseerdag Juni Groep
First Sculpting Day June Group
Eerste Boetseerdag Juli 2009 Groep
First Sculpting Day July 2009 Group
Tijdens de eerste dag wordt de basis van het gezichtje, handjes en voeten geboetseerd.
During the first day the basis of the face, hands and feet is sculpted.


Boetseren van het neusje vraagt veel aandacht
Sculpting the nose is a precise job
LUNCH-TIME
Elke dag genieten de cursisten van een frisse Zomer lunch
Every day the students enjoy a fresh Summer lunch
Kiezen uit lekker brood en fris beleg
Choosing from nice bread and fresh filling
Samen lunchen in de tuin
Lunching together in the garden


Even genieten van lunch en rust
Enjoying lunch and rest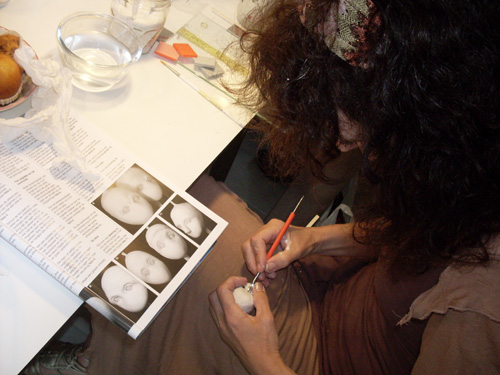 Precies werken met het boek Fairy Fantasy als extra hulp
Working precisely with the book Fairy Fantasy as an extra help


Blije poppenmaakster
Happy dollmaker

Alle details worden extra uitgelegd
All details are explained very well
Resultaat na de eerste boetseer dag
Result after the first sculpting day
ZATERDAG - SATURDAY
TWEEDE DAG - SECOND DAY
Tweede boetseerdag
Second sculpting day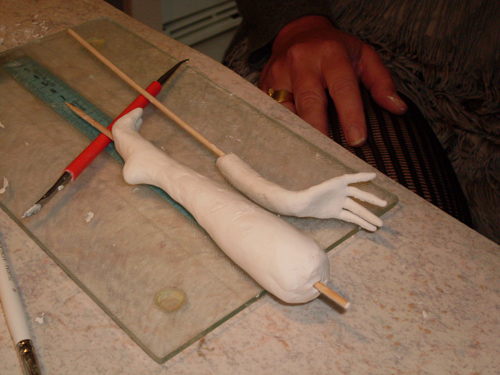 Werk in ontwikkeling: een been en een arm
Work in progress: a leg and an arm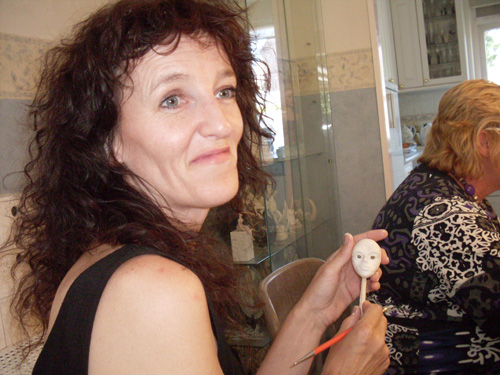 Verbaasd over de pop in wording
Surprised about the doll in progress


Zeer precies aan het gezichtje werken
Working very precisely on the face


Poppenmaken is leuk!!!
Dollmaking is fun!!!


Genieten van een soepje en/of een glaasje wijn gedurende de namiddag
Enjoying soup and/or a glass of wine during the late afternoon
Ik maak graag poppen, jij ook???
I love to make dolls, you too???
ZONDAG - SUNDAY
DERDE DAG - THIRD DAY
Derde boetseerdag
Third sculpting day


Buiten schuren van de vingertjes voordat de handen geboetseerd worden
Sanding the fingers outside before the hands are being sculpted


Geconcentreerd bezig
Busy concentrated


Voetjes afwerken
Detailing the feet


Details aan het gezichtje bijwerken
Working on details of the face
Met veel aandacht
With a lot of attention
Poppenmaken in het zonnetje
Dollmaking in the sunshine


Werken en relaxen
Working and relaxing
MAANDAG - MONDAY
VIERDE DAG - FOURTH DAY
De vierde dag is er eentje van details boetseren en schuren,
wat een zeer precies werkje is!
The fourth day is for sculpting small details and
sanding the complete doll, which is a very precise piece of work!


Een bijzonder schuur hulpmiddel, een schuursponsje om een stokje gelijmd!
A special sanding aid, a sanding sponge glued around a wooden stick!


Laatste details schuren is veel meer werk dan eerst gedacht!
Sanding the last details is much more work than expected!
Fijn resultaat na dagen boetseren en schuren
Fine result after days of sculpting and sanding
DINSDAG - TUESDAY
VIJFDE (VRIJE) DAG - FIFTH (FREE) DAY
Vrije dag voor alle cursisten
Free day for all the participants
Woensdag - Wednesday
ZESDE DAG - SIXTH DAY
Deze dag wordt besteed aan het schilderen en vernissen
This day is completely for painting and varnishing


Eerst alle lichaamsdelen in elkaar zetten
First connecting all the body parts
En hier en daar nog wat aanpassen
Adjusting here and there
Tijd om de pop een mooie huidkleur te geven...
Time to give the doll a beautiful skin color...
...en het gezichtje mooi te beschilderen...
...and the face will be painted as well...


Eindelijk!! - At last!!
Alles vastleggen...
Photographing every step...


Na het verven, vernissen!!
After painting, varnishing!!


En dan is ze bijna af
And now she is almost ready
Enkele poppen, aan het einde van 5 dagen gezellig samen werken
Some of the dolls, at the end of 5 days of relaxed working together
DONDERDAG - THURSDAY
ZEVENDE DAG - SEVENTH DAY

En nu is het tijd voor het aanbrengen van de haren en het maken van de kleding
And now it is time for adjusting the hair and making the clothes
Maar eerst....
But first.....
Tijd vrij maken om samen naar de markt te gaan
Spending some time to go to the market together
Poseren bij de een bloemen winkel
Posing in front of a flower shop
Ingrid (Spanje-Spain), Kathleen (België-Belgium),
Janny (Nederland-The Netherlands),
Gayle (Canada), Sandra (Duitsland-Germany)
Elisabeth (Noorwegen-Norway, Minancy (Nederland - The Netherlands), Deborah (Frankrijk - France), Joke (Nederland - The Netherlands)
Liv (Zweden - Sweden) , Anja (Nederland - The Netherlands),
Catharine (Engeland - England) , Xanthi (Griekenland - Greece)
Cappuchino drinken in La Place
Sharing a cappuchino in La Place
Zoeken naar stofjes
Searching for fabrics
Kantjes en lintjes
Lace and ribbons
Alle stofjes, kantjes, lintjes en haar rond de pop
om een mooi totaal beeld te krijgen
All the materials, lace, ribbons and hair around the doll
to create a beautiful total
Lieve kleuren
Sweet colors
Warm en vurig
Warm and hot
Na het aanbrengen van haren en wimpers,
eerst een laagje stof gebruiken om het stoffen lijfje te bekleden

After attaching the hair and eyelashes,
first a layer of fabric or lace is used to cover the fabric body
De haren worden goed beschermd tegen lijm!
The hair is very well protected against glue!
Beslissen hoe je verder gaat....
Deciding how to continue.....
Precies naaldwerk
Precise needlework

VRIJDAG - FRIDAY
ACHTSTE (LAATSTE) DAG - EIGHTST (LAST) DAY
Op deze laatste dag wordt de kleding verder afgemaakt,
aan het eind van de middag
worden de poppen gefotografeerd, en....
daarna samen op weg naar het restaurant
voor een heerlijk etentje als afsluiting!

On this last day we will finish making the clothes,
and at the end of the afternoon
all the dolls will be photographed and...
we are all going to a restaurant for
a lovely dinner!
Nog even doorwerken en dan is het klaar....
Just some time now and the doll is ready....


Werken bij het raam achter de naaimachine
Working near the window at the sewingmachine
Heel precies kleding maken volgens een zelf ontworpen patroon!
Making the clothes very precisely with a self made pattern!


Realiseren van prachtige ideeën
Realising beautiful ideas


Vleugels maken van organza
Making wings of organza
En dan...... is ze bijna af!!!
And then...... she is almost ready!!!
Resultaat - Result
Even samen poseren in de tuin met de poppen
Posing together in the garden with the dolls
Juni - June - 2009
Juli - July - 2009
Het zijn twee fantastische workshops geweest,
en ik kijk met heel veel plezier uit naar volgend jaar!
Ik vind het erg fijn dat verschillende cursisten er volgend jaar weer bij zijn!
Ik wil hierbij al mijn cursisten bedanken voor de fijne enthousiaste aanwezigheid!
We all enjoyed two wonderful workshops
and I am looking forward to next year!
I am happy that several students will be coming back next year.I like to thank all my students for the nice and enthousiastic presence!
Via deze link ziet u alle poppen van deze workshop
en de workshops van 2007 en 2008

Through this link you will see all the dolls of this workshop
and the workshops of 2007 and 2008