Holiday Workshops
2009 I have organized two wonderful holiday workshops in June and July. Dollmakers worldwide were interested and joined! I have really enjoyed these workshops a lot and I was thrilled to see so many beautiful dolls made. Due to this succes I will organize 3 workshops for 2010.
These workshops are already filled up.
If you are interested, just contact me for next year 2011.
Complete Doll or 2 Busts
Thursday June 3 until Friday June 11, 2010 FULL


see here information



Complete Doll or 2 Busts
Thursday July 1 until Friday July 9, 2010 FULL
see here information
Complete workshop One Bust:
Monday July 26 until Friday July 30, 2010 FULL
see here information

------------------------
Dates 2011

2 - 10 June 2011 - one doll or two busts
7 - 15 July 2011 - one doll or two busts
25 - 29 July 2011 - one bust
Would you like to experience a relaxing and interesting doll sculpting holiday in The Netherlands with only a small group of students, in a comfortable and friendly atmosphere?
Do you like to learn how to make a wonderful doll, completely with clothes, hair.....Or do you like to make 2 wonderful busts.....Do you like to learn new
techniques and get inspired? Do you want to go on an interesting trip to
Amsterdam or Utrecht or maybe view one of our wonderful Castles?
I would love to welcome you!
Hotels and Bed&Breakfast
Close to Houten are many Hotels from modest to very luxery. In Houten and Utrecht you will find B&B (bed and breakfast) from 35 euro to 60 euro per night for one to two persons for a room with t.v. and internet. Here are 8 links to B&B in Houten, in Culemborg and in the centre of Utrecht near the train station, so you can travel very fast (7-8 minutes with the train) and cheap to my house:
I advise my students to stay in Houten, because of the distance.
Vercammen - Houten -
Hoogendoorn - Houten -

Klaverstijn - Culemborg -
Verweij - Culemborg -
Stol - Culemborg -
Den Ulch - centrum Utrecht -
Kilim Centre Inn - centrum Utrecht -
Apartment Kanne - centrum Utrecht -


Transport to my house is short and easy. Bus and train stops every 15 minutes near my house.
-------------------------------------------------------------

Information:
The classes will be organized at my home in Houten. If the weather is fine, we will work outside in my small and cosy garden, on the veranda, on 2 large garden tables.
When the weather is cool or in case of some rain we will work inside on a large table.
Houten is a most beautiful Dutch modern small town in the middle of The Netherlands, adjoining the beautiful town Utrecht.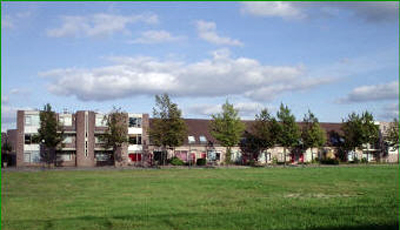 Houten is surrounded by scenic nature.


Houten has a fully renovated new center with many great shops, a brand new theater and cinema, little beautiful cafes and terraces.
Many trees, little bridges and streaming waters.
It is wonderful to stroll and go for a walk especially in summertime.
x
Houten is well known for her limited traffic. The beautiful center is only 2 minute walking distance of my home!
TRANSPORT:

The train station is only 4 minutes walking distance of my home. Every 15 minutes a train arrives and leaves to Utrecht and the South of the country. The train Utrecht - Houten takes only 8 minutes. In the center is a new bus station where every 15 minutes a bus leave to Utrecht and other surrounding towns.
Close to Houten you can visit several beautiful castles, such as
Kasteel De Haar
Kasteel Heemstede
Kasteel Sijpestijn
Utrecht is a beautiful lively town to visit with the beautiful Dom Church and garden
Utrecht is famous for its fantastic canals where you can experience a romantic canal ride.
Please visit the pages about the classes:
Complete workshop One Doll or Two Busts:


see here information
Complete workshop One Bust:
see here information